Discover more from How You Create
A podcast about what it takes to survive and thrive as a creative.
📬 Let's Link Up ~ Issue 10
A curated list of links and resources found on the world wide web...
Last week, Joshua and I hosted our first IRL event for photographers in the Lousiville area. More than twenty-five photographers displayed some of the work they have been shooting lately and we had over fifty people in attendance.
The vibe was great and there was so much creative energy and meaningful conversations. Overall, it was a great time, and based on the positive feedback we will be planning on doing another event soon. Until then, here are some images that Joshua took at the event.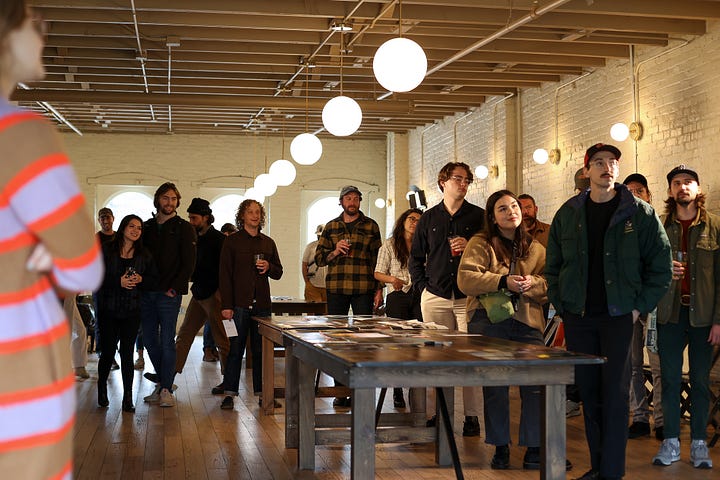 Huge shout out to our sponsors for the event that helped make Prints & Pints happen:
Make sure to subscribe to the newsletter and follow us on Instagram for updates on future events.
---
Creative
Devin Allen discusses how art is activism (hyc)
Sorry Not Sorry by Tyler, The Creator (youtube)
Tria Giovan's photographs of the Lower East Side were lost in the archives – until now (ID)
100 emerging and more established independent foundries and designers. (it's nice that)
NPR prioritizes radio over podcasts with steep cuts (verge)
Ira Glass on storytelling (youtube)
Tech
How to use AI for practical stuff (one useful thing)
22 ai tools you should know about (hackernoon)
Make music by doodling with your fingers (ezpz)
Post-photography and AI (fellowship)
Money
Substack opens up a $2 million community fundraising round (tc)
The income gap is becoming a physical activity divide (nyt)
$335,000 Pay for 'AI Whisperer' Jobs Appears in Red-Hot Market (Bloomberg)
Freelancers reveal their rates and share top tips for pricing your work (creativeboom)
One Way to Actually Make Money on YouTube and TikTok: Get Behind the Camera (WSJ)
---
Listen and Subscribe to the podcast: